Emotions for Presence and a Higher Consciousness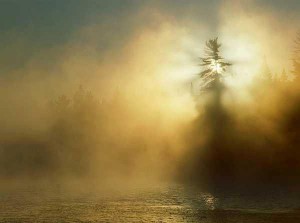 What is it that turns up our senses and gives us presence when we are entering different situations? I remember walking by roses many times and they were nice but I was not amazed by them, nor do I remember stopping to smell them.
There have been times when I was sad, I would walk by roses and barely remember them as background. I barely could distinguish them from everything else. There are also times that I have been in love, walked by roses and been swept away with their beautiful smell and appearance. I would enjoy each moment and be more present than ever just being near the rose bush. I would notice the aphids and ladybugs, the thorns, the various amounts of blossoming and how each blossom no matter little or much it had opened had a different beauty. I would even notice how beautiful and fragrant the petals on the ground were. I would enjoy every moment and remember that I wanted to share this beauty with the person I loved.
Why was I able to be so much more present and aware of my senses, when I was in love? What happened that made it so I was not even aware of my senses when I was sad?
The information about the rose, the sight, the feeling of the petal, the sound of the breeze in the leaves and the fragrance of the rose are gathered together in our fusiform gyrus. From the fusiform gyrus the information is then sent to our limbic system and to the amygdala.
The amygdala adds value and meaning, to what we see, which is a way of preparing us. Is this a danger, is this something wonderful, is this something we run from, is this something we rush to? All of this is determined by the value and meaning our amygdala puts on what we look at. It is essentially the difference between looking and seeing.
There are many things that will have a different value and meaning to us, depending on how we experience ourselves at that particular moment. How we experience ourselves is determined by the amygdala as well.
This may seem complicated but it is essential to understanding how we experience the world. How we experience ourselves influences our experience of other sensory things. The emotional value and meaning we place on ourselves, "how we feel about ourselves and see ourselves"….will alter the lens we use to see the world.
The world changes depending on how we feel. We do not see others as they are, we see them as we are. When we have clarity we are able to distinguish between good and bad people. This clarity is an awakening.
When we have an emotional loving feeling about ourselves, we are able to experience much more. When we "feel" love for ourselves, we reward ourselves with a feeling of aliveness and presence, which heightens our perceptions and allows us to see with much more clarity. We are able to not only look at the rose but experience all of its beauty. We are also able to distinguish what is not good for us as well.
When we have healthy feelings about ourselves, we have the ability to be present and conscious.
The value and meaning the amygdala puts on what we sense, in this case a rose, will determine what happens in our brain. For those of us that want to be present, open our heart or be enlightened, what happens automatically in our brain is very important.
If we are worried, the limbic system reroutes our energy and attention to our cingulate gyrus where we focus our thoughts. In this way our brain is helping us find out what we are worrying about. At this time we do not send much information to our amygdala, we do not add value and meaning to things that do not involve our safety and a rose has little meaning to us at this time.
If we are trying to suppress our emotions by thinking instead of feeling, the meaning of a rose is very little as well.
If we feel love, we are deeply opening our emotions, or as we say "our heart" and a rose is something we see, want, share and enjoy.
With love, the emotional value of the rose cascades as a waterfall into our autonomic nervous system, the sympathetic stimulation opens our pupils and how much value and meaning the rose now has to us, can be measured by a galvanic skin response.
When we are in love, we see a rose and think of the person we want to share the rose with, we release neurotransmitters, dopamine and norepinephrine. These neurotransmitters give us a feeling of excitement and heightened perception. If we have been with the person we love long enough to have a bond, we will release endorphins and enkephalins, as we hold the rose and feel the love. The endorphins and enkephalins are powerful natural narcotics that give us a sense of comfort, safety and well being. If we share a rose with someone we share love with, we may release a neurotransmitter called serotonin, this neurotransmitter will give us a feeling of oneness.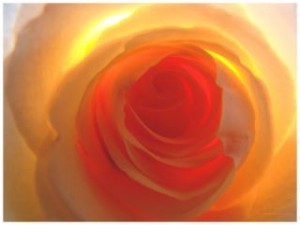 The emotional value and meaning we add to sensory information, can bring great clarity to our lens. Our senses and thoughts are a component of perception, the emotions we have are the anchor that make what we see memorable.